Why Backup your WordPress site
Without a proper and reliable backup solution your online presence and business with be lost. Your WordPress website needs a reliable backup strategy using a trusted WordPress backup plugin like BackupBuddy. WordPress doesn't include built-in backups, so we are using BackupBuddy to every website we build and maintain in order to meet the need for a solid WordPress backup solution.
Many website host offer a backup solution on your complete account, CPanel, etc, but this may not be enough if you experience a server crash. Other WordPress security issues include hacks, malware, user error, deleted files and running bad commands. All of these things can completely wipe out your WordPress site forever. Having the latest backup of your WordPress website is critical for protecting your website. BackupBuddy is here to help.
How BackupBuddy Works
Order BackupBuddy plugin, download and install it.
Click on BauckupBuddy menu at your right and select Backup. Fill there a password for the backup file, email address to which email to be send any notifications and where to store the backup files. Then click on Backup Now. The backup will start and will backup your database, full site backup, files, media, depending what backup you selected.
What BackupBuddy backups on your site
BackupBuddy backups Everything on your site. While other WordPress backup plugins only backup the WordPress database, BackupBuddy backs up your entire WordPress installation, making sure you have a copy of all your WordPress website files.
BackupBuddy's backup includes everything needed to run your WordPress website. Backup all WordPress files, all files in the WordPress Media library, your WordPress themes and WordPress plugins, and more. Once BackupBuddy completes your backup, you get a downloadable zip file of your entire WordPress website.
Everything is backup:
Pages
Posts
Widgets
Comments
Theme Files
Plugin Files
Theme & Plugin Settings
WordPress Settings
WordPress Database
WordPress Core Files
Users
Media Library Uploads
Custom Post Types
Categories & Tags
Images, Videos, etc.
Restore a Backup using BackupBuddy
Restoring or migration a site to a new host or developer server is literally takes minutes, depending of the size of your site.
BackupBuddy's WordPress migration feature is a very popular feature for WordPress developers who build custom sites for clients locally or on a temporary domain and then move the entire site over to a live domain.
Reasons to migrate or restore your WordPress site:
Change Hosts or Servers – Need to move your WordPress site to a new host or server? BackupBuddy allows you to move your entire WordPress site to a new host or server.
Change Your Domain / URL – Need to change the domain name of your WordPress site? That's easy, too. BackupBuddy handles moving your website to a different domain or URL.
URL Replacement – BackupBuddy automatically replaces all the URLs when you migrate a site to a new domain. BackupBuddy even has a tool for replacing other text in your database.
WordPress Migration – Build a custom site for a client on a temporary domain or locally, and then move the entire site with themes over to a live client domain with BackupBuddy's WordPress migration.
Clone WordPress – Make a copy of an existing WordPress website using a BackupBuddy backup to easily clone WordPress. Use your copy to quickly spin up a dev site.
WordPress Staging & Deployment – With BackupBuddy's Deployment feature, you can set up a WordPress staging site and connect it with your existing site so you can push or pull changes in as few as two clicks.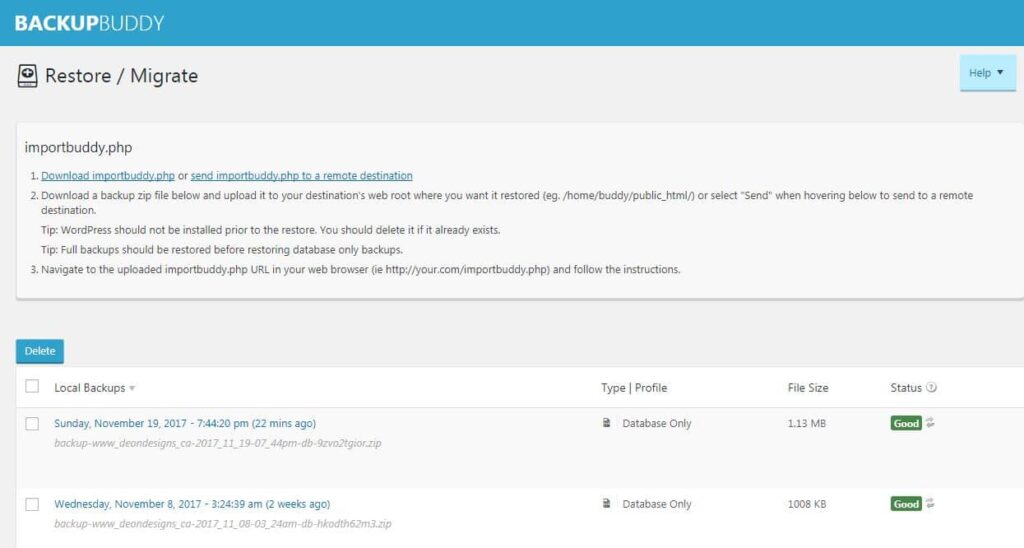 Schedule a Backup
BackupBuddy allows you also to schedule a backup, either full, database, files, media, etc, at a specific time and date to run regularly as a daily, weekly, bi-weekly, monfly, quarterly, etc, to ensure that your website is regularly backup.
In conclusion do a regular backup on your website and have a piece of mind that even if something goes wrong with the website, or any outdated plugins and theme, you can restore your site any time without loosing your online presence or business.
We have been using BackupBuddy for over 3 years and we have been completely satisfy with its quality, features, and reliability to backup, restore and quickly migrate a website.